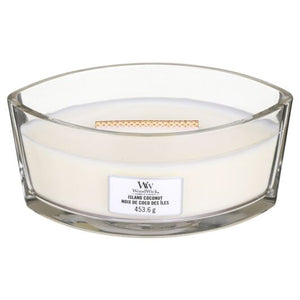 Woodwick Island Coconut Elipse Candle
The cream tinged tone in this WoodWick candle imitates the sight of luscious sandy shores, waved in tropical and sweet tones. Allow a contrast of sharp yet sweet pineapple and the cream filled juiciness of coconuts inspire thoughts of laying on a sun-stricken beach, palm trees swaying with a tropical aroma in the air. This refreshing scent is complimented by the unique shape of the candle holder which is an hourglass.
The scent is made up of top notes of Pineapple, followed by mid notes of Banana and Coconut. Finally this candle is finished off with base notes of Creamy, Vanilla, Musk's and Sheer Fruit. These all combine to create a scent of blended pineapple and coconut for the perfect tropical treat.
This WoodWick candle uses a wick made from organic wood which burns with the sound of a crackling fire, creating an atmosphere of total relaxation, a unique multi-sensory experience. It features a cross shaped 'Pluswick' wick, which fills your room with fragrance five times faster than the average cotton wick. Made from a high-quality blend of soy wax, this candle produces a slow, soot free burn of approximately 180 hours and won't leave a messy residue on the sides of the jar.  The thick wooden lid is branded with the WoodWick logo and can be used as a base when the candle is in use to protect your surfaces.
Made in the USA.