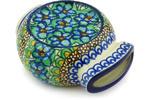 This Polish Pottery vase (item number H6406G) is made by Ceramika Artystyczna factory in Boleslawiec, Poland. It is 4.5" high and measures 2.1" by 3.9". The weight of this vase is 0.54 lbs.

 
This is Polish Pottery 
Unikat (Signature)
 vase, which means that it has been hand painted with both sponges and brushes and it is signed by the artist who painted it. Unikat pieces are the most involving works of art. Larger Unikat items take a few hours of very careful work to finish.