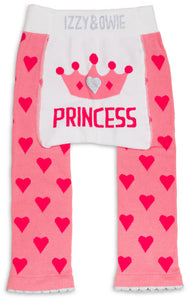 PREMIUM QUALITY: Leggings in size 6-12 months, packaged in a plastic polybag with a metal hanger, are made from a cotton, nylon, and spandex blend which allows for adequate waistband stretching.
IN-HOUSE DESIGN: "Izzy & Owie" text is sewn into the waistband, "Princess" text and crown image are both sewn into the rear, and the heart pattern of the main material covers the rest of the leggings.
PERFECT GIFT: Great for gifting to those who have a baby.
CARE INSTRUCTIONS: When machine washing, choose a gentle cycle with cold water. Always wash with similar colors. Laying the product flat to dry is recommended. Do not bleach. Do not iron.