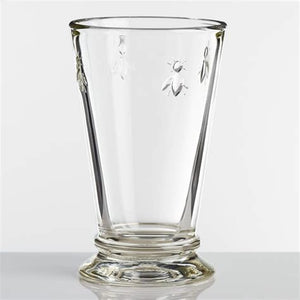 Double Old Fashioned Glasses with the iconic Napoleon l'abeille (Bee) embossed on the modern silhouette adds style and elegance to any casual or formal table or event.
HIGH QUALITY: At 6.5"H x 3.5"W, these elegant 15oz double old fashioned clear glasses with a solid base are comfortable to hold and the perfect large size for a refreshing ice tea with lots of ice on a hot summer day.
THE ICONIC BEE DESIGN: This design was part of Napoleon's coat of arms, used to decorate fabrics, clothing and luggage. The bee is also one of the symbols of magical Southern France.