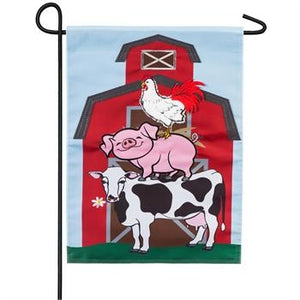 This garden size applique flag features a red barn background with totem of rooster, pig, and cow in the front. The cow has a flower in his mouth. There are embroidered and fur accents. Hardware sold separately.
Fade & Weather Resistant
This garden size flag is designed with nylon fabric with tight, detailed machine stitching.
Double-sided so it reads correctly on both sides with applique technique layering.
Dimensions: 12.5"Wx 18"L
Material is fade and weather resistant.
Flags can be hung on garden flag pole / stands, sold separately.