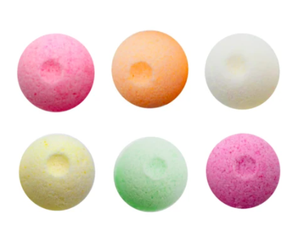 Cocktail Bombs Variey Pack of 6
This 6-pack classic collection provides a tasty variety of Orange, Margarita, Mojito, Pina Colada, Peach, and Raspberry Orange cocktail bombs.
Note this product does not contain alcohol.

The  packaging is 100% eco-friendly. The box itself is recyclable and the individual wrap on the bombs is biodegradable. 
The  products are manufactured in FDA registered facilities that follow strict quality control standards.
HOW DO COCKTAIL BOMBS WORK ?
Step 1 : 
Choose your favourite Cocktail Bomb
Step 2: 
Drop into a glass of your favourite sparkling beverage ( we recommend 250ml or 8oz )
Step 3:
Enjoy as is, or add a shot of your favourite spirit