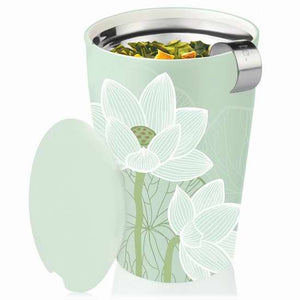 Our Lotus loose leaf tea tumbler is a tea-sipper's dream come true. As part of Tea Forte's line of innovative Kati tumblers, it will let you brew and keep warm your very own teas at home, at work, or out and about. Simply place your chosen tea leaves into the stainless steel infuser basket and add hot water as appropriate. Then cover it with the lid and let it brew. The removable basket fits snuggly into the cup, ensuring no stray leaves fall into the water, and the finely-meshed strainer will filter the leaves without losing the flavors and antioxidants that make a tea refreshing, tasty and healthy. After the tea is ready, the tumbler's double-enforced ceramic walls will ensure it stays hot.
With its beautifully florid and calming Lotus design and optimum holding size, this tumbler is the perfect gift for someone special, and can store coffee, hot chocolate and other beverages besides tea.
Our Kati Tea Tumbler with Infuser was created by Tea Forte. This company began in Massachusetts in 2003, with a highly stylized product line based on traditional Japanese tea drinking ceremonies, intended to "elevate a cup of tea into an extraordinary experience for all your senses." Today, they present an unparalleled variety of handcrafted teas and tea accessories with sumptuously decorated packaging. Enjoyed in over 35 countries, their products can be found in the most prestigious restaurants, hotels, resorts and luxury retailers, making them ultimate ambassadors of the tea-drinking experience.